Custom Mini Concrete Cows
There is always the option to have your Mini Concrete Cow painted with colours other than black and white.
In addition to colours other than black and white additional customisations can be included, such as even more colours, company logos and other accessories.
Pricing and Minimum Order Quantities
Making bespoke branded Mini Concrete Cows can be quite costly if only one or two cows are wanted. There can be significant costs in getting logos printed, specific colours for paint and any other accessories used on trophies. We are happy to provide a quote for whatever you have in mind, but would always note that the cost per cow is going to seem a lot more reasonable once you order 10 or more Mini Concrete Cows. Once an organisation has ordered branded cows with us (especially with their logo added) it is often cheaper and quicker for the production of subsequent orders.
Example Custom Quote
Example Order - 15 Medium Mini Concrete Cows painted in red and blue with the addition of a decal logo.
| | |
| --- | --- |
| 15 x Medium Mini Concrete Cows (£29.99 each) | £449.85 |
| First non-standard paint colour for 10 cows | £20.00 |
| First non-standard paint colour for additional 5 cows | £15.00 |
| Second non-standard paint colour for 10 cows | £15.00 |
| Second non-standard paint colour for additional 5 cows | £15.00 |
| Addition of company logo for 15 cows | £139.00 |
| Total cost | £653.85 |
So, the cost per cow would be £43.59.
One-off Designs
We have created one-off designs in the past and we can do this again, but they are time consuming and costly. Please contact us with your ideas and we will see what we can create for you.
Style and Size of Mini Concrete Cow
Mini Concrete Cows come in three different sizes - large, medium and small. You can order them as standard cows or in a trophy style with a concrete base (medium size only). You can place a bespoke order for a combination of sizes and styles.
Different Paint Colours
The standard Mini Concrete Cow comes in black and white but you can order different colours. Many organisations choose to have their colour and white and some have more than one colour (e.g. light blue and dark blue). Sometimes we leave off some of the coloured patches so that people have more white space on the cow to sign and write on. If you have something in mind let us know and we will try and accomodate your ideas.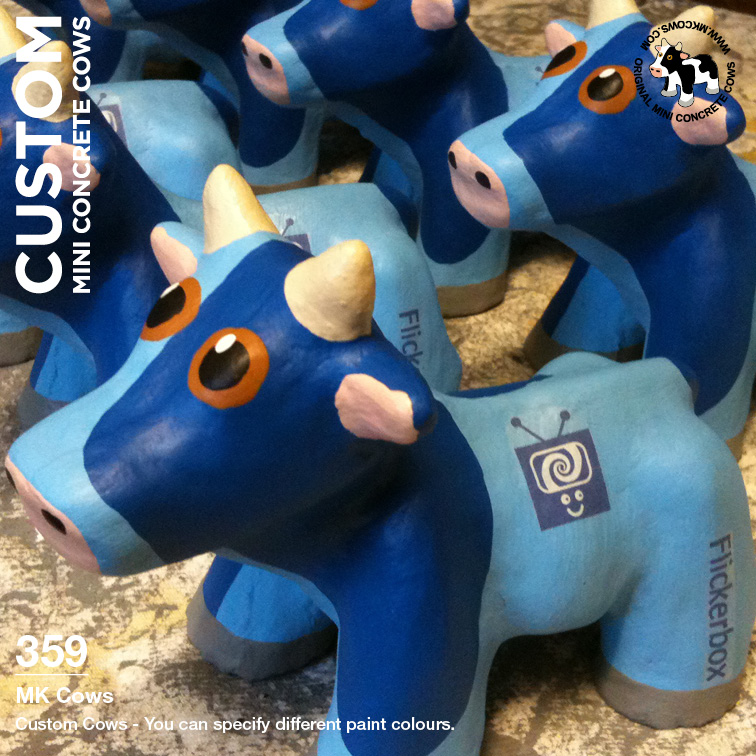 Prices - First non-standard body colour +£20 and any additional non-standard body colours +£15 each. (For a minimum of 10 cows.)
Add Your Logo
When organisations want their logo added to the cow we use a specialist print partner to produce water slide decals that are individually cut out and applied to the body of the cow. These can be in full colour or in white (for use on top of a dark colour). Every cow that has a logo added to it also has an additional coat of clear matt varnish applied to give a little extra protection. These decals are expensive to print so this can become impractical for very small orders of custom Mini Concrete Cows.
What are Water Slide Decals?
Water slide decals are printed with a specialised printing machine to create isolated printed images that are temporarily affixed to a special porous backing paper. These designs can then be cut out and after soaking in water the printed element will 'slide' off of the backing and adhere to the target surface. These are commonly produced and used for miniature plastic models that are made by hobbyists, painted and then the finishing touches are made with decals.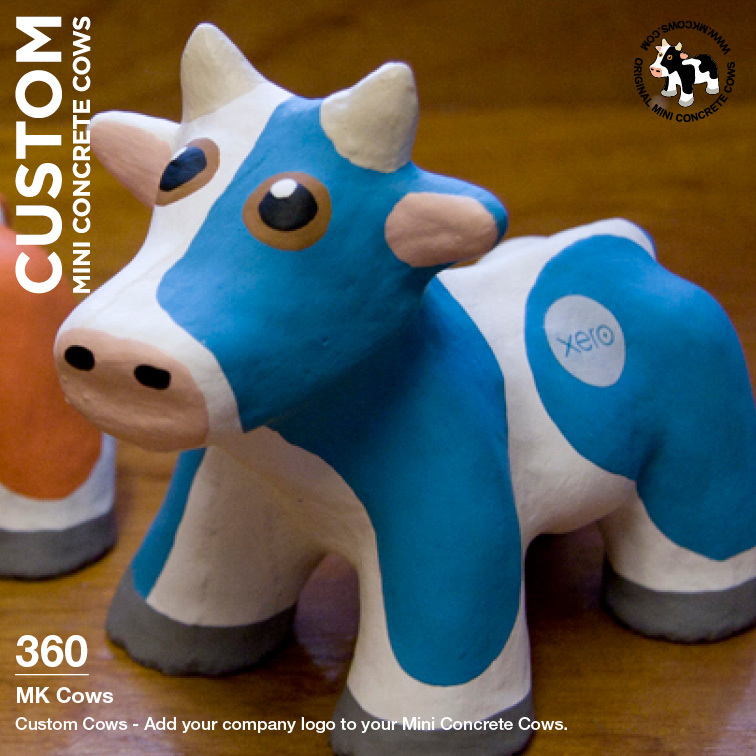 Prices - Addition of company logo +£139 (for 15 cows.)
Artistic Paper Coverings
We have produced some custom cows with a special outer skin of printed tissue paper. The paper is torn into small pieces and then glued to the surface of the cow (a bit like paper mache.) Once covered these cows then have the feet, eyes, horns, mouth, and ears painted on before coating the whole cow in a varnish.
This results in some great looking Mini Concrete Cows, but the time for adding this and the cost of the custom tissue papers can all add up.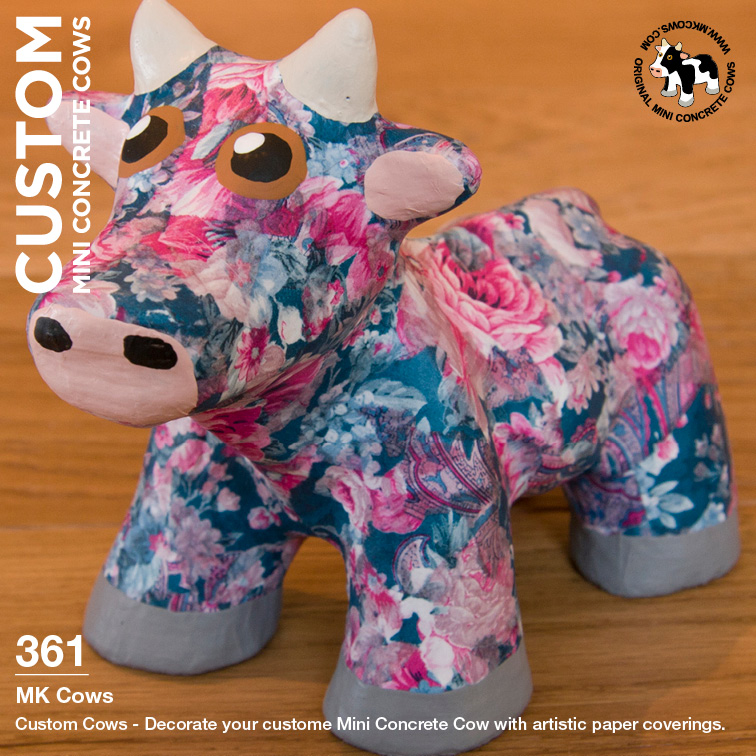 Prices - Priced individually on enquiry.
Accesories
Other details and accessories can be added to your custom Mini Concrete Cow to suite the occasion and purpose of your custom cow.
Sometimes these can be purchased, but mostly they are custom made.
In the past we have added things like: wooden paddles to the Dragon Boat racing trophies, half golf balls, engraved brass name plates, hats, collars, wedding veils, toys, fabric costume parts, mirror tiles, and many other items. These customer accessories can add significant costs to the custom Mini Concrete Cows, but they do enhance the look and feel considerably and add that 'wow' effect to a gift or branded item.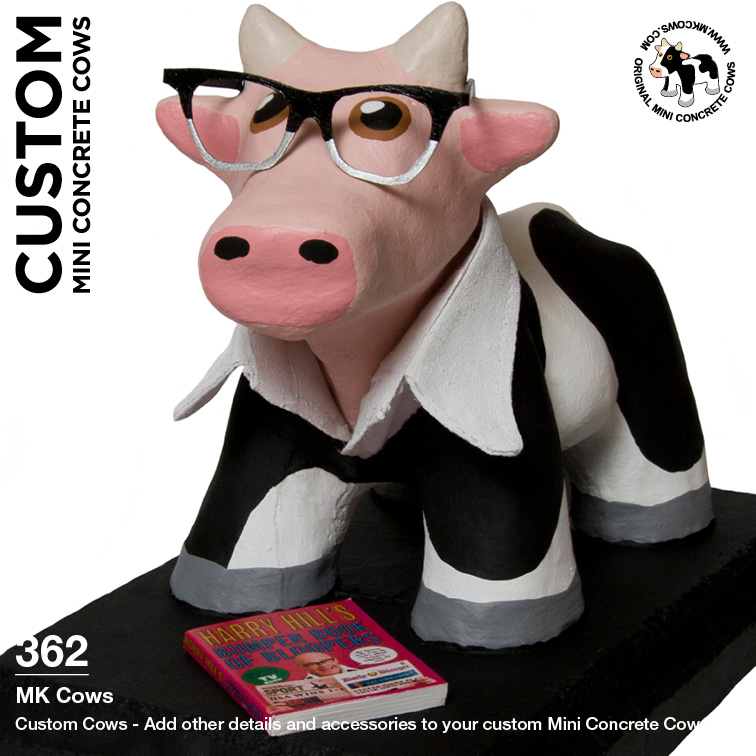 Prices - Priced individually on enquiry.