Personalised Word Art & Busblinds
Customised word art Busblinds that make the perfect gift and eye-catching work of art. Professionally designed, printed, and custom framed in Auckland, New Zealand and delivered worldwide.
A timeless work of art, with favourite words, names, places, pictures, icons, logos, objects and memories of all kinds.
The traditional BusBlind is a printing role of canvas used to show the stops along a route for an old red London bus. With this canvas unrolled it displays a list of place names.
The modern interpretation for a BusBlind allows us to create lists of places, names, and memorable things that can then be displayed in your home, office or anywhere needing a stylish word art design.
The words and phrases used are not limited to a vertical list - although there is a certain classic style to this look. As we design your BusBlind we can use different fonts, colours and layouts along with photos, icons or illustrations.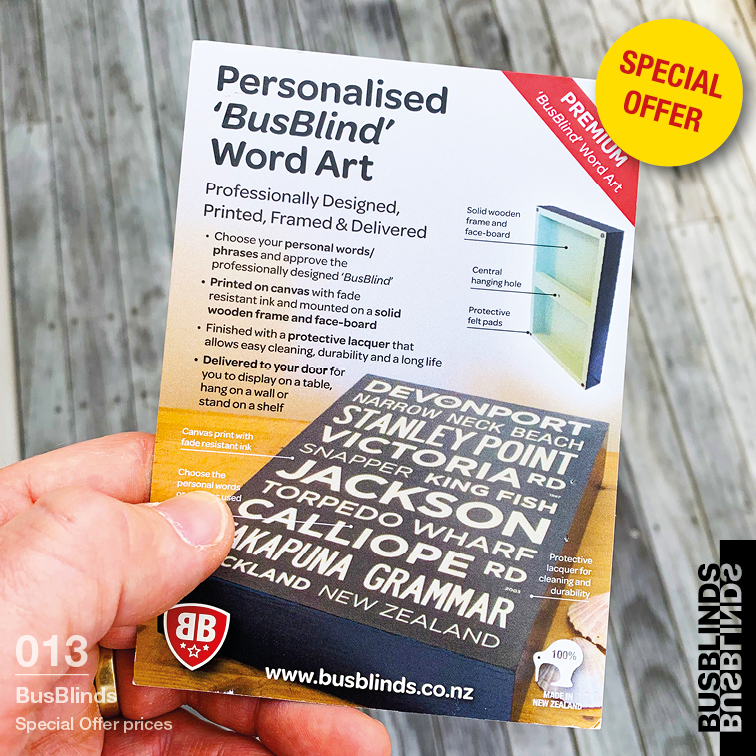 We are offering some special prices on our most popular Busblind sizes from November 2020 to the end of January 2021. So take advantage of this special offer today.
Follow on Facebook
See our latest work and get details on special offers. Make suggestions and message us here.